On 5 Oct 2021, the Cyber-Physical Systems Research Group (CPS) of Razak Faculty of Technology and Informatics (RFTI), Universiti Teknologi Malaysia (UTM) had organized a webinar titled "BLOSH: BLOCKCHAIN FOR SMART HEALTHCARE WEBINAR".
The BLOSH webinar was co-organized with the researchers from Azman Hashim International Business School (AHIBS) and Perdana Center, RFTI. The webinar was chaired by Ts. Dr. Noor Hafizah Hassan and officiated by Assoc. Prof. Dr. Samira Albati Kamaruddin, Acting Deputy Dean (Research, Development and Innovation).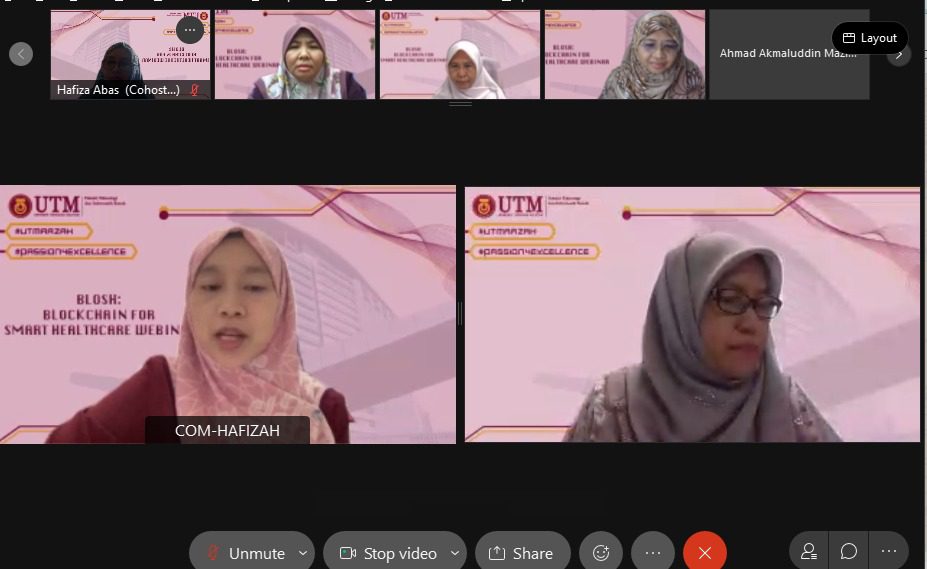 Nearly 100 attendees from various universities, private companies, and government agencies were interested in learning more about blockchain technology in medicine. The main objective of this BLOSH webinar was to give the participants an introduction to Blockchain that can be applied in the healthcare industry. In addition, the session also presented the progress and results of university research under the Transdisciplinary Research Grant (TRG).

Under the theme "Blockchain for Smart Healthcare", four main topics were covered in this webinar, namely; Secure and Scalable Decentralized Sharing of Medical Data using Blockchain Technology, Restructuring of the Medical Data for Blockchain-based Decentralized Sharing, Decentralized Sharing of Medical Data for Consultation among Healthcare Professionals, Acceptance among Health Professionals and Return on Investment of Decentralized Sharing of Medical Data and Data protection policy for Secured and Decentralized Sharing of Medical Data.
It was presented by five researchers: Prof. Ts. Dr. Salwani Mohd Daud (RFTI), Ts. Dr. Suriani Mohd. Sam (RFTI), Ts. Dr. Hafiza Abas (RFTI), Assoc. Prof. Dr. Siti Zaleha Abd Rasid (AHIBS) and Assoc. Prof. Dr. Muhammad Fathi Yusof (RFTI).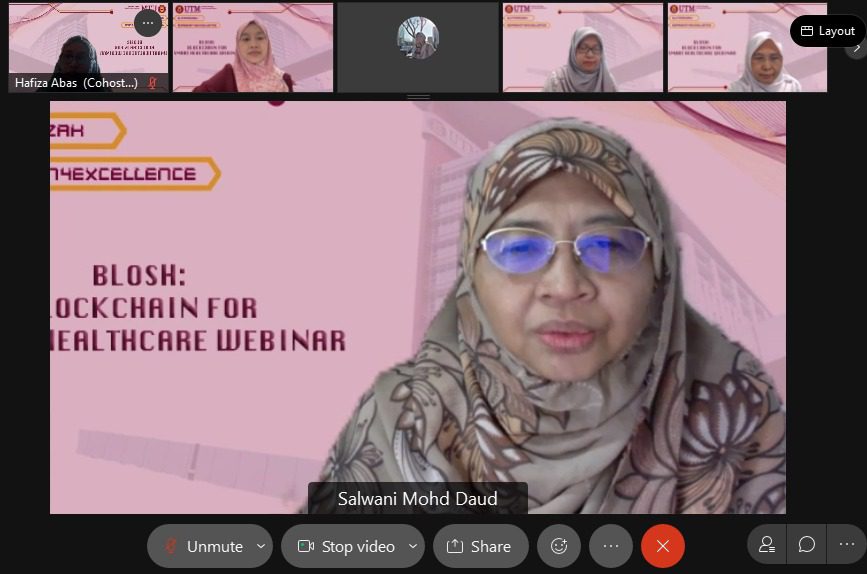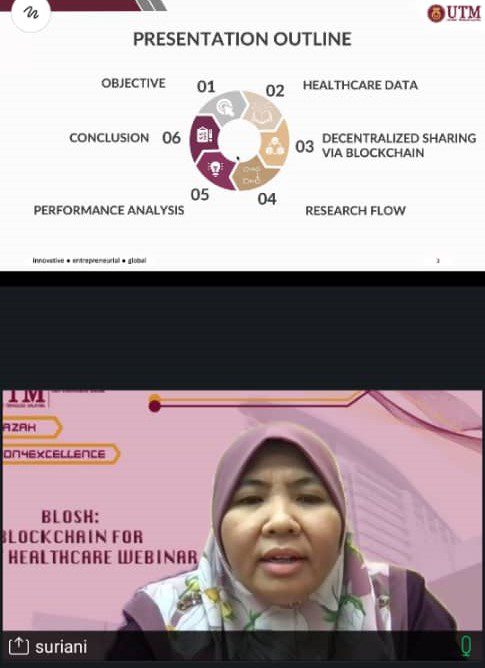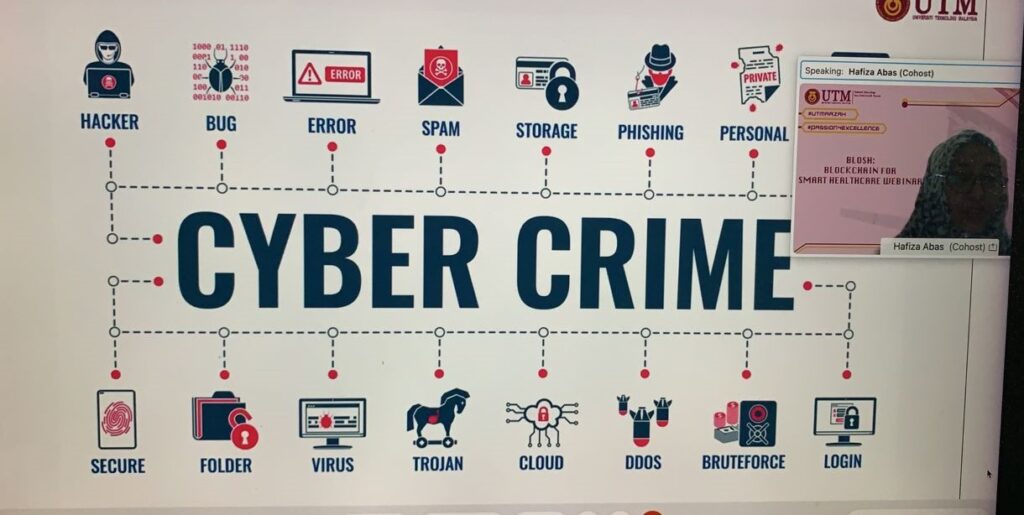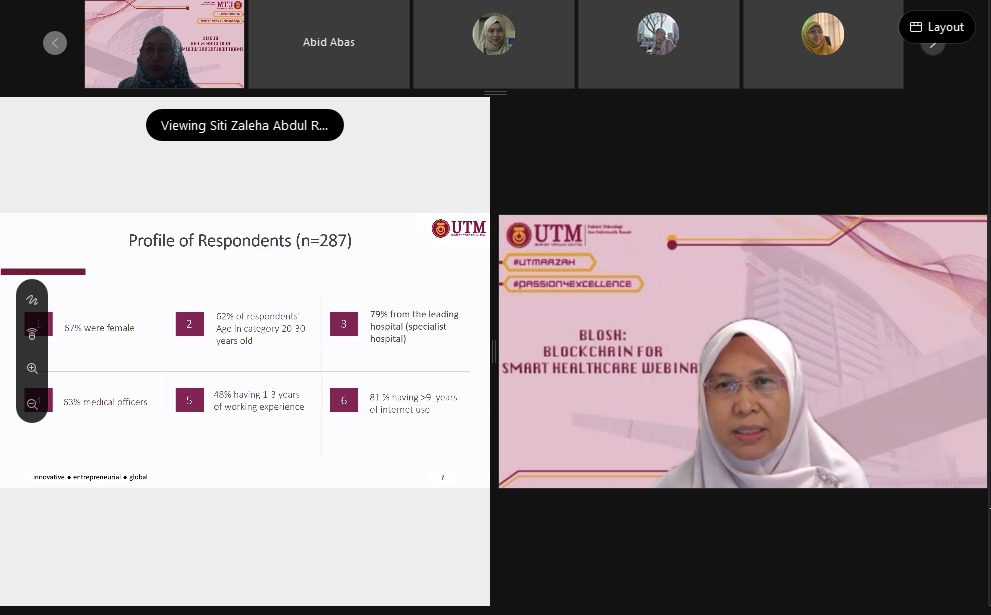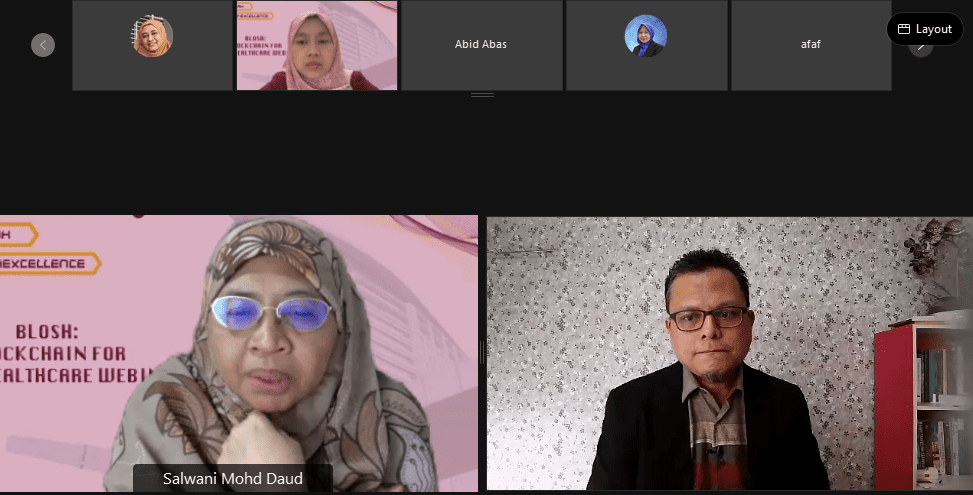 The BLOSH webinar had successfully provided information to government agencies, and industries about Blockchain and its application to healthcare. The organizer also collected data on the level of readiness of the involved parties to use Blockchain in their organization and gets the opportunity to cooperate and collaborate for the success of the Quadruple Helix (QH) combination.