Dear UTM Researchers,
We are pleased to announce that the RADIS system is now ready to accept new applications for the Postdoctoral Fellowship Scheme 2024. Principal Investigators who meet our criteria, along with potential Postdoctoral Fellows, are welcome to apply until November 30, 2023. Applications should be submitted by the Supervisor/Principal Investigator in the RADIS system by creating a new application for a Postdoctoral.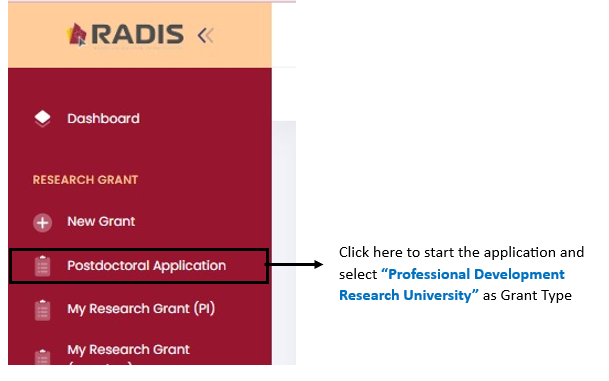 Candidates are encouraged to complete their personal information and project details using the form on the RMC website. These details will later be reviewed and entered by their supervisors in the RADIS system.
For guidelines and application forms, please visit our *website at https://rmc.utm.my/download-research-funding/ or contact the RMC Postdoctoral Fellowship Secretariat via our hotline at +6017 446 4080 (WhatsApp is available during office hour) for more information about the grant and the application procedure.
*Information is under 'Research University Grant (GUP 2024)*